RMH Modena Raffaello Hotel & Residence
the new RMH group hotel
modern and charming
The RMH Modena Raffaello is a surprising hotel in Modena that merges the Italian lifestyle with the more modern comforts hospitality has to offer. We are a Life & Style Hotel: our brand of hospitality incorporates a warm welcome, excellent cuisine, and spaces for socialising and enjoying your downtime.


At the RMH Modena Raffaello Hotel & Residence, you are in a prime position to experience Modena, the city renowned for racing cars such as Ferraris, the Italian-originated bel canto vocal style, Maestro Luciano Pavarotti, and superb food and wine, such as balsamic vinegar and fresh hand-rolled pasta. You are right at the heart of Italian art and culture, design and cutting-edge industry. You are right at the heart of the driving force of an entire region, the Emilia-Romagna.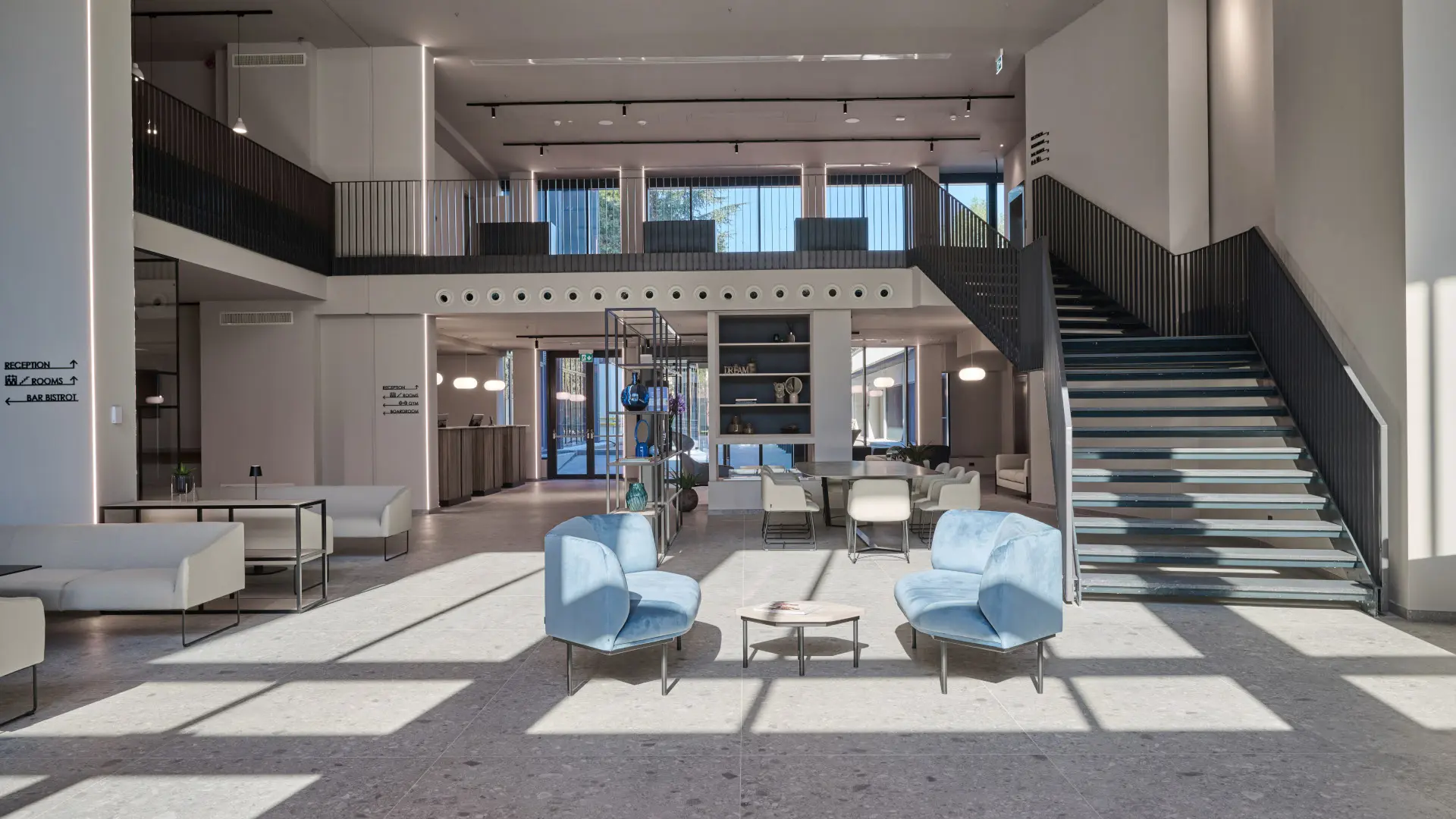 STYLE, MODERNITY, COMFORT
The RMH Modena Raffaello Hotel & Residence was designed to welcome you to Modena. Our communal areas, just like our rooms and apartments, enhance Italian style and design, offering places where you can spend time, relax, do sports or work. The RMH Modena Raffaello is a hotel that is open to the local area and is a veritable "hub for mixing and mingling" where you can feel the thrum of vibrant energy, meet people and socialise.
Style, modernity and comfort - it all merges into a single entity, RMH, the Made in Italy brand that delivers genuine Emilian hospitality.

Booking a stay at the Modena Raffaello Hotel means having the opportunity to enrich your stay in the ducal city thanks to the exclusive offers of the RMH group.

Many packages dedicated to different types of travellers, business and leisure. Take the time to discover, among our proposals, the most suitable for your style of stay.

COMFORTABLE SUITES & MODERN APARTMENTS
FOR SHORT OR LONG STAYS IN MODENA
Our rooms and suites are perfect for business trips to Modena or for exploring Emilia, safe in the knowledge that you can count on the amenities offered by the Rosaria Marazzi Hotels Group.
RMH Modena Raffaello succeeds in making you feel at home, when far from home, even for very long periods, with its new and modern apartments within its residence. State-of-the-art spaces, a minimal design crafted with efficiency in mind and a contemporary, nimble and flexible lifestyle.

DISCOVER OUR CONFERENCE AND MEETING SPACES
The RMH Modena Raffaello Hotel & Residence has fully-equipped meeting and event rooms in Modena. Our modular plenary hall can be split into two rooms and can accommodate up to 270 people. This is joined by three smaller rooms with a capacity of up to 40 people each and 2 boardrooms for 8-10 people, all perfect for more confidential business meetings. The hotel's lounge area and terrace are sublime locations for private events, meetings and work lunches.
RMH MODENA RAFFAELLO
USE THE HOTEL AS A SOCIALISING SPACE
Due to its central location, amenities, the extremely modern communal areas and the assistance that the RMH staff provide to our guests, the RMH Modena Raffaello, Hotel & Residence, is the perfect place to enjoy a stay that goes beyond the classic concept of a night in a hotel.
MAKE THE MOST OF YOUR TRIP WITH THE RMH MODENA RAFFAELLO
DISCOVER THE CITY OF MODENA AND THE EMILIA REGION
THROUGH UNIQUE EXPERIENCES EXCLUSIVE TO RMH
JOIN THE CLUB RMH
Subscribe to the Newsletter to receive information, news and proposals reserved for you.
RMH Modena Raffaello, business and leisure hotel in Modena.